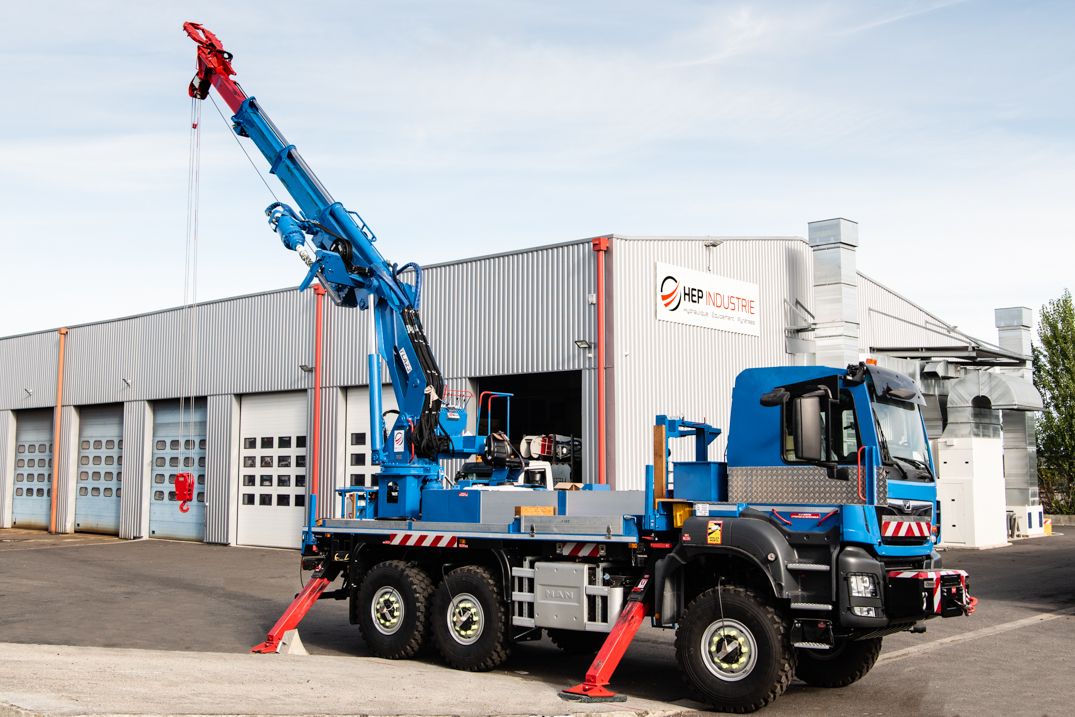 Pole erection units for installing wooden, metal and concrete posts for telephone and electricity lines. Used for many years in the telecom industry and for medium- and low-voltage electricity lines, we manufacture equipment which professional installers can rely on.
Pole erection units dedicated to the telecom industry
.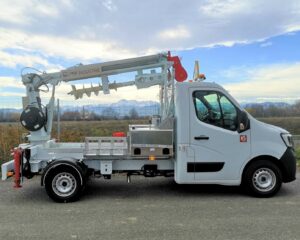 Fully radio-controlled machine with override on turret to ensure greater freedom of movement for the operator 2-member telescopic arm Removal by 12T hydraulic pole extractor Pair of H-shaped stabilisers at...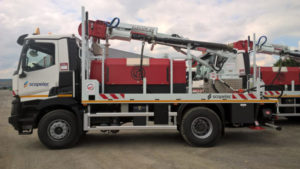 The TELECOM 20 DTH digger derrick is a crane drilling rig equipped with a down-the-hole drill. Minimum drilling depth: 3.8 m; maximum drilling depth: 5.7 m.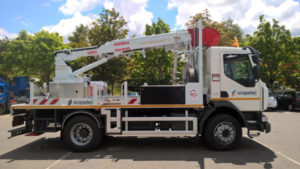 The Telecom 20 pole erection unit for the telecom industry ensure the efficient installation of utility poles with a minimum drilling depth of 3.8 m and a maximum depth of...
Pole erection units dedicated to dry electrical networks
.
What are pole erection units? They are hoisting rigs used for installing utility posts, whether wooden, concrete or made of composite materials. Our pole erection units are equipped with augers for digging down to a depth of 1.8 m. The Telecom pole erection units is particularly useful for installing for wooden, composite or iron utility poles. The pole erection units for electrical networks on the other hand are designed for installing concrete, wooden or metal utility posts thanks to the high load capacity they can hoist.
Our wide range of pole erection units for sale meet all the industry's needs and are suitable for all types of ground. This is why we offer drilling augers of different boring diameters and with different hoisting capacities.
Pole erection unit specifications
lifting capacity
maximum height under hook
payload according to truck
cable length with hook
articulated or telescopic arm
control station
stabilisers
capacity limiter
minimum GVW
power take-off
bodywork socket
wheelbase
rear underride guard
reinforced suspension
differential lock
exhaust in the recommended lane
reverse gear buzzer
Advantages or our pole erection units
The main advantage of our pole erection units is their built-in stability thanks to the A stabiliser or X stabilisers. Our machines are also produced with anti-rollover devices as standard. This ensures that the load lifted by the crane is perfectly controlled. This system is simple and reliable, making these the best pole erection units for construction sites.
Other advantages:
robust direct hydraulics
filtration limiter
Another huge advantage of our range of pole erection units is that they are ideal for all your utility post installation needs.
What's more, our range of tools is suitable for all drilling machines. We adapt the tools according to your needs (production methods) and to your production sectors. The same goes for the radio control, which can be adapted to all your machines.
Our optional utility-post clamps ensure that the poles are held in place vertically, making work more secure and safer. This option is available for all our pole erection units from the TL12 model upwards.
Carrying our maintenance on your machinery? We have all the spare parts for pole erection units you need, regardless of the year your equipment was manufactured. This makes carrying out repairs on your hydraulic machines much simpler.
Pole erection unit drilling rig services
When you purchase a HEP INDUSTRIE pole erection unit, you benefit from the following services:
The handover of our machines to your teams. We come out to you and train your team on how to use pole erection units. A user manual is systematically supplied with our machines.
Moreover, HEP INDUSTRIE has been UTAC-certified since 2018. This not only guarantees the quality of the machines delivered but also optimises shipping time.
Finally, a team of HEP INDUSTRIE experts on the machines and technical standards will be at your disposal.
Our headquarters are located in Séméac near Tarbes, in the Hautes-Pyrénées department of southwestern France. We manufacture the machines as well as offer maintenance and repairs for all our pole erection units and winches.
For more information, please contact our design office.
.