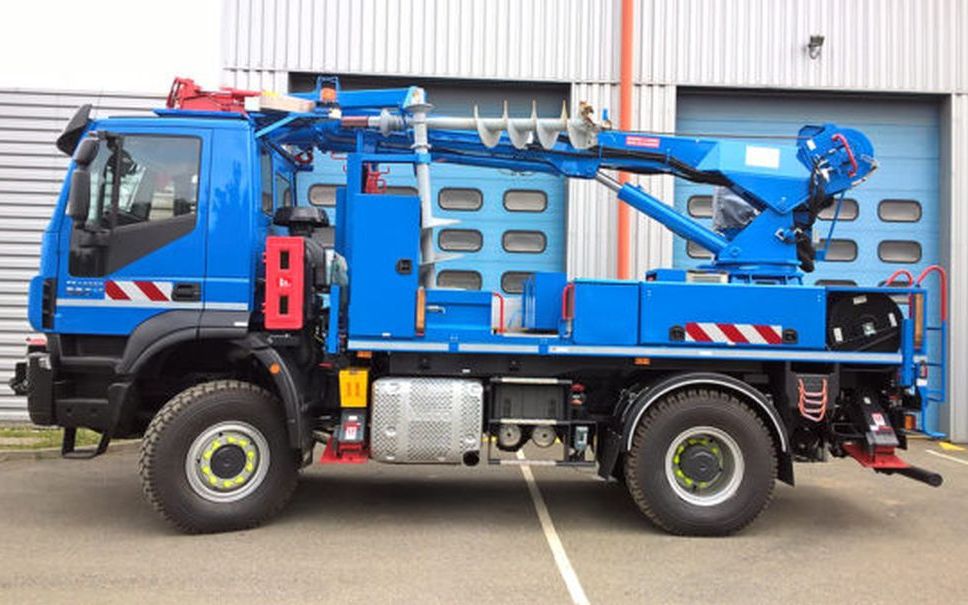 C140 pole erection unit
---
The HEP INDUSTRIE C140 is a pole erection unit with a higher load capacity than our TL12 model. The C140 is a specially designed pole erection unit for electricity networks. This model has been optimised for all types ground (hard, rocky, calcareous, all types) and for drilling post holes and installing utility posts. Minimum drilling depth: 4.5 m; maximum drilling depth: 6.2 m.
The HEP INDUSTRIE C140 is a digger derrick with a higher load capacity than our TL12 model.
Equipements des foreuses grues C140 ( tarière lève poteaux )
Fixed main boom
1-member telescopic beam + 3.40-m manual extension + (optional 1.8-m jib)
Hydraulic power supply to the boom head by means of telescopic pipes
Double-acting lift cylinder with 1-cylinder non-return valve
Lateral control station on turret for improved visibility
Turret rotation by continuous planetary rotation reducer (hydraulic and electric rotary joints)
Paire de stabilisateurs en A à l'avant et l'arrière
Lift winch with planetary reduction, mechanical brake with hydraulic pressure failure
Hydraulic overload protection
Electrical capacity limiter
Moment limiter with pressure tapping on the main arm cylinder
Safety limit high hook with counterweight
Lifting cable: diameter: 16 mm; length: 40 m
Lifting capacity depending on the machine's 360° angle of rotation
Hydraulic tank with 220-L air cooler
A drilling engine with storage along the arm
Socket for hydraulic tools (140 bar – 20 l/min)
Pre-equipped with post clamps
EU compliant

STANDARD BODYBUILD

Manufacture and flatbed installation
Non-slip marine treated melamine floor
Machine support
Fixed panels on the right and left sides of the flatbed
Auger/core drill storage space on flatbed
Pole holders on cab
Fire extinguisher
Traffic cone storage
Storage panels on the back of the cabin
Pebble crate
Storage boxes on or under the flatbed: according to the bodywork plan drawn up further to the quotation
Ladder or access stairs
Road signs and markings in compliance with the Highway Code
Painted in the company's colours
Delivery and lift commissioning by regulatory control body
In addition, training in the use of the auger post remover C 140 is provided during machine handover. HEP INDUSTRIE is also UTAC qualified, guaranteeing your delivery time and compliance with technical standards.
Options of C140 Piling rig
Tools :
Core drills from 300 mm to 900 mm in diameter
Augers from 250 mm to 900 mm in diameter, equipped for hard or soft ground
Hydraulic tools: grinder, water pump, concrete breaker, vibrating needle, tamper, hydraulic post pruner…
MACHINE OPTIONS
Remote control
Swivel post clamp at the end of the boom head and clamp reducer for wooden posts
6 T pulley block
Kit Emergency hand pump
Emergency electro-pump
CAMBER OPTIONS
Front and rear towing winches with the characteristics required
Composite chocks for stabilizer pads
Removable panels
PVC tubes for storage of fabric panels
Right and left manually extendible oversized post holders
Storage boxes in the desired size
Reinforced protection cap on top of the cab
Hydraulic reel (tool socket)
Oxy-acetylene torch reel
Compressed air reel
Oxy-acetylene bottle holder
Additional pebble crate or sand/gravel bucket
Water tank
Electric or manually raised 'tri-flash' hazard warning triangle
Flashing lights (Flashing lights and/or penetrating fog lights)
Additional work lights
3.5T hook or more depending on the pre-equipment of the carrier
Bespoke bodybuild available on request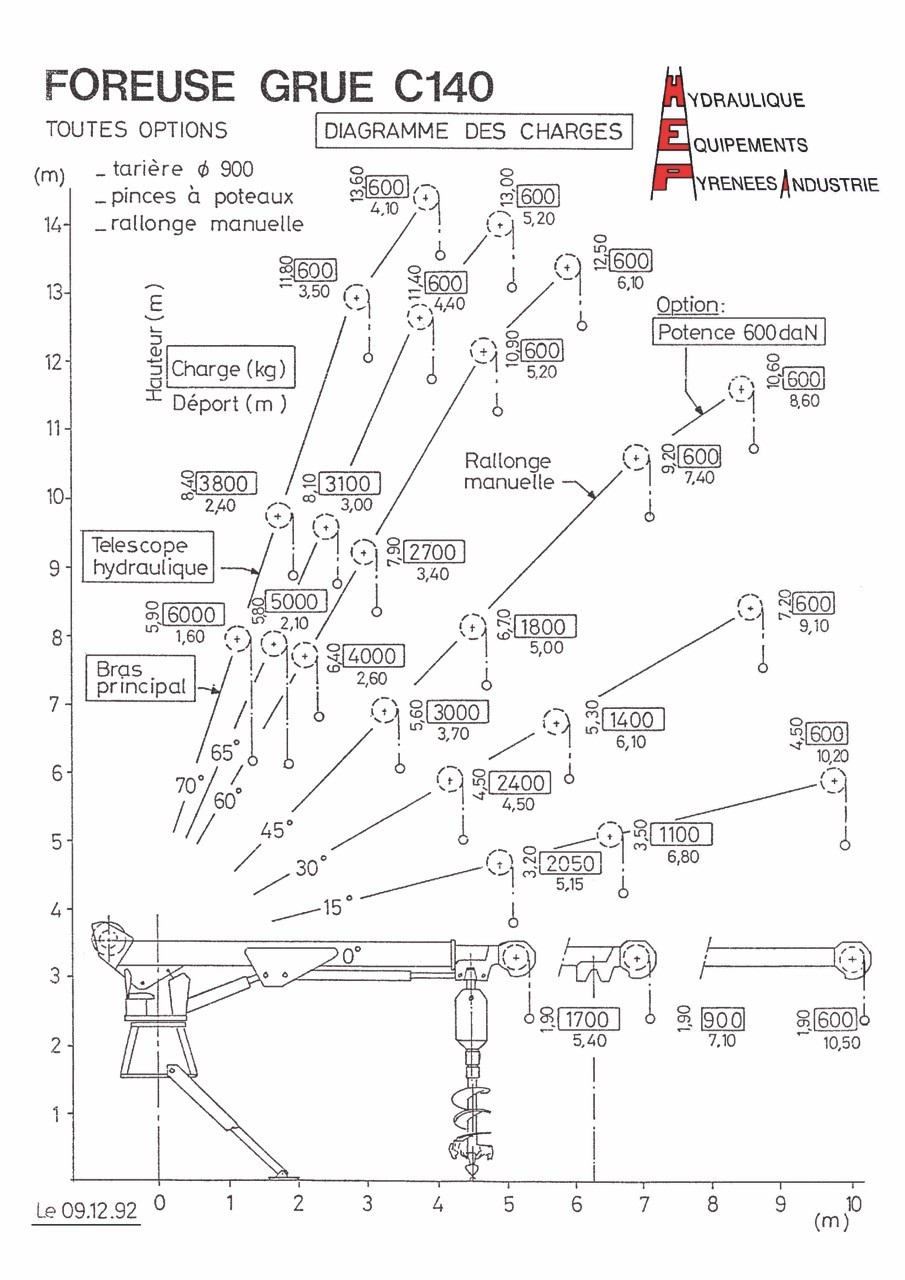 Minimum GVW of the truck-mounted winch in Tonnes: 16 T / 19 T*
Minimum wheelbase between axles 1 and 2* (Prior validation by our design office required for axle-load verification) : 3.8 m
A bodywork socket for accelerating, decelerating, stopping and starting the engine from the machine's control unit..
Rear impact guard
Reinforced suspension
Differential lock
Echappement in the recommended direction
Reverse beeper
Hollow-shaft power take-off (450 Nm /R.1)
Max. Height Under Hook (m) : 11.8
Lifting winch force on one strand (daN) : 4000
Lifting winch force on one strand (daN) : 6000
Core drills (mm) : 900