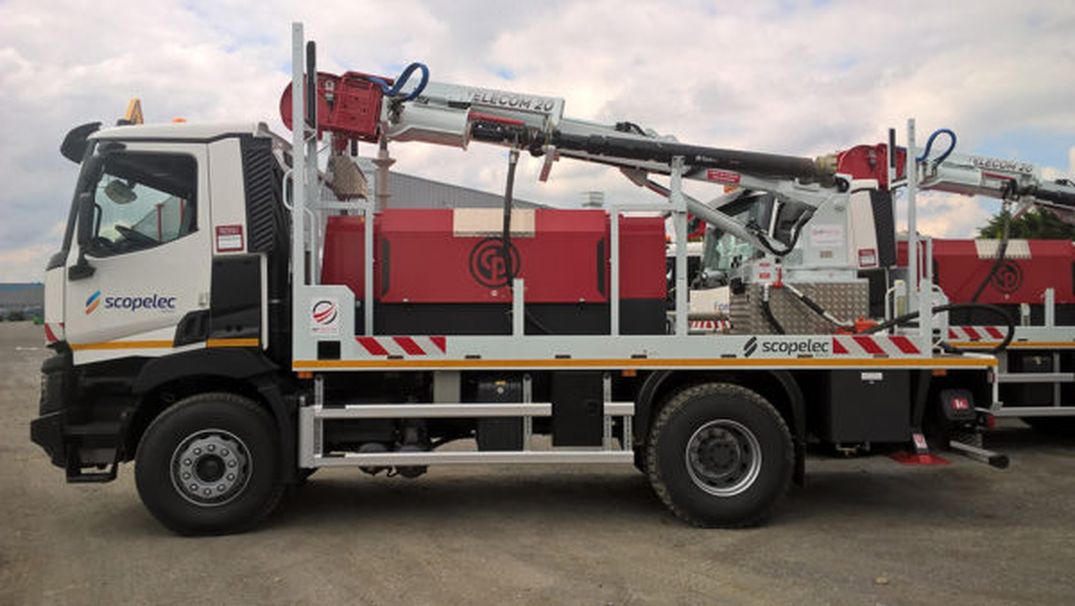 Telecom 20 pole erection unit with down the hole Hammer
---
The TELECOM 20 DTH pole erection unit is a pole erection unit equipped with a down-the-hole drill. Minimum drilling depth: 3.8 m; maximum drilling depth: 5.7 m.
TELECOM 20 pole erection unit with down the whole hammer has the same features than the TELECOM 20.
The pole erection unit also comes with a compressor, a down-the-hole drill and a carbide-tipped auger. These additional drilling tools ensure that the TELECOM 20 DTH drill is capable of penetrating the hardest types of ground (limestone, granite… Depending on your sectors of activity, we are able to give you advice about the best crane drilling equipment to use, and we will also give you tips on how to get the most out of your mobile drilling machine.
Collapsible arm : one part
Fixed main boom
Hydraulic power supply to the head of the boom: hose belt
Double-acting lifting jack with non-return valve: 1 cylinder
Control unit: on the flatbed
Rotation turret by means of a 700° planetary rotation reducer with mechanical locking system (continuous rotation option)
Two rear A-frame stabilisers
Lift winch with planetary reduction, mechanical brake with hydraulic pressure failure
Electrical capacity limiter
Moment limiter with pressure tapping on the main arm cylinder
Safety limit high hook with counterweight
Cable lifting height: Diam. 12 mm, length 25 m
Lifting angle capacity, depending on machine orientation angle 120° backwards
140 litre hydraulic tank with air cooler
A drilling engine with storage along the arm
Socket for hydraulic tools (140 bar – 20 l/min)
EU compliant
Specific Equipment to the TELECOM 20 DIGGER DERRICK DTH:
Compressor 11 000 l/7 bar (supply, assembly and compressed air connection)
Hammer 8'' (premium quality)
Shock absorber 8″
Line lubricator
Hammer holder (while driving)
Size according to customer's choice: 10″ or 12″
STANDARD BODYBUILD
Manufacture and flatbed installation
Non-slip marine treated melamine floor
Machine support
Fixed panels on the right and left sides of the flatbed
Auger/core drill storage space on flatbed
Pole holders with integrated extensions
Pole holders on cab
Fire extinguisher
Traffic cone storage
Storage panels on the back of the cabin
Pebble crate
Storage boxes on or under the flatbed: according to the bodywork plan drawn up further to the quotation
Ladder or access stairs
Road signals and road markings in compliance with the Highway Code
Peinture aux couleurs de l'entreprise and UTAC rules
Delivery and lift commissioning by regulatory control body
Tools :
Core barrels from 300 mm diameter up to 400 mm diameter max
Augers with diameters from 250 mm to 400 mm, equipped for hard or soft ground,
Taillants 10'' ou 12'' pour marteau fond de trou 8" (marque premium)
Hydraulic tools: hydraulic pole puller, grinder, water pump, concrete breaker, vibrating needle, tamper, hydraulic pruning pole, etc…
MACHINE OPTIONS
Remote control
Swivel post clamp at the end of the boom head and clamp reducer for wooden posts
4T snatch block
Kit Emergency hand pump
Emergency electro-pump
Options Carrossage :
Composite chocks for stabilizer pads
Removable panels
PVC tubes for fabric panel storage
Storage boxes in the desired size
Reinforced protection cap on top of the cab
Hydraulic reel (tool socket)
Enrouleur chalumeau oxycoupeur
Compressed air reel
Oxy-acetylene bottle holder
Additional pebble crate or sand/gravel bucket
Water tank
Electric or manually raised 'tri-flash' hazard warning triangle
Flashing lights (Flashing lights and/or penetrating fog lights)
Additional work lights
3.5T hook or more depending on the pre-equipment of the carrier
Bespoke bodybuild available on request
Minimum GVWR (Tons): 13 T
Minimum wheelbase between axles 1 and 2* (Prior validation by our design office required for axle-load verification) : 3.8 m
A bodywork socket for accelerating, decelerating, stopping and starting the engine from the machine's control unit..
Rear impact guard
Reinforced suspension
Differential lock
Echappement in the recommended direction
Reverse beeper
Hollow-shaft power take-off (450 Nm /R.1)
Max. Height Under Hook (m) : 8.1
Lifting winch force on one strand (daN) : 2000
Lifting winch force on one strand (daN) : 4000
Core drills (mm) : 400